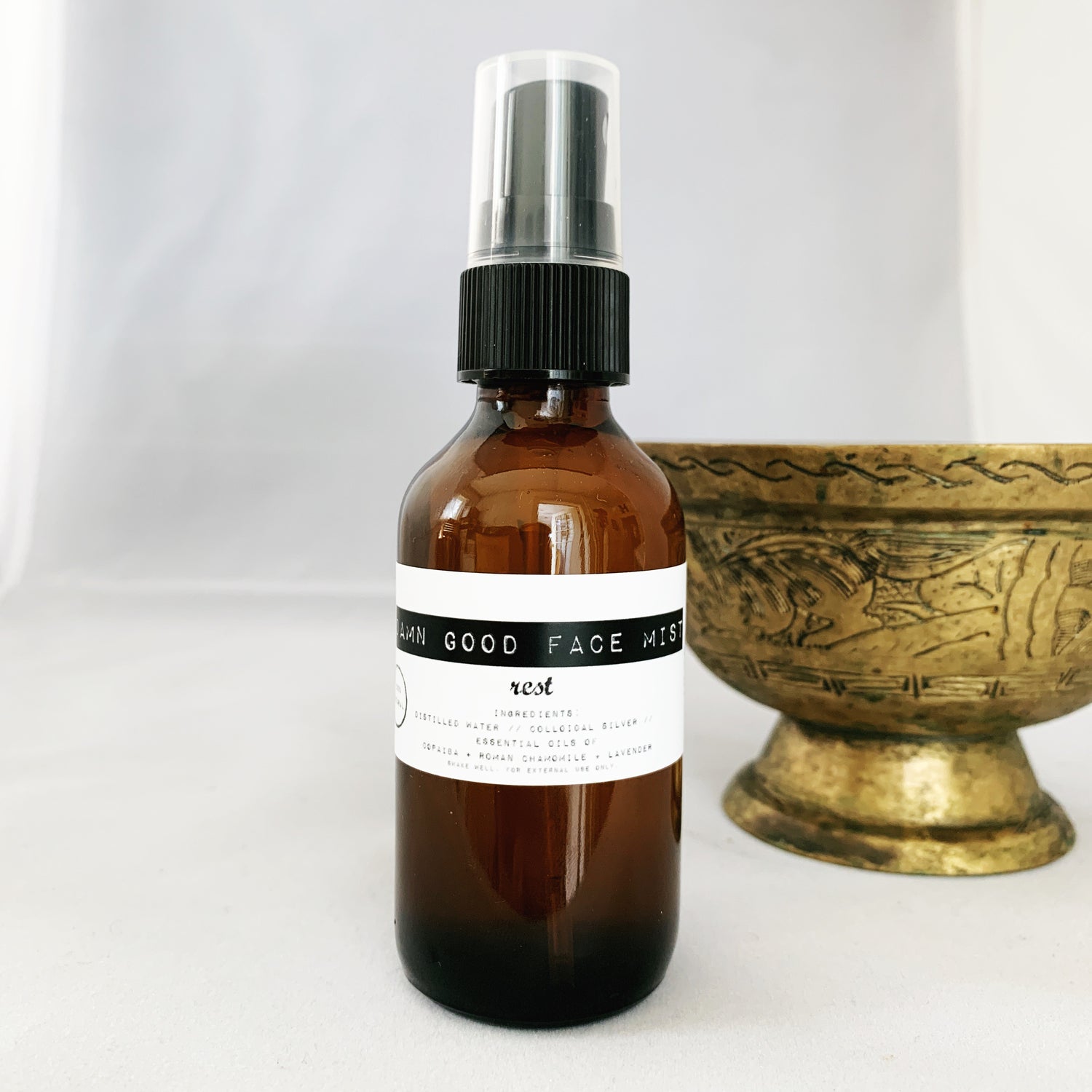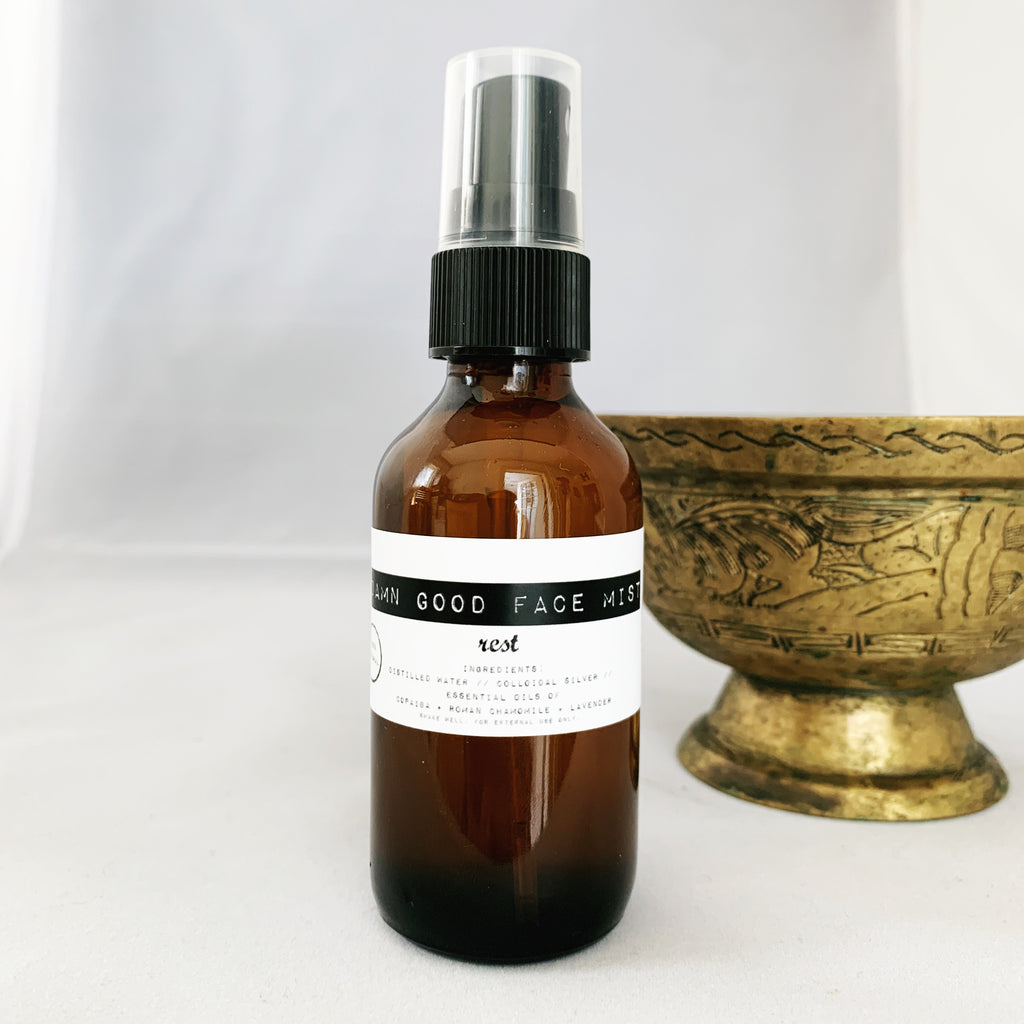 On Sale
Damn Good Face Mist // Rest (copaiba + roman chamomile + lavender)
Damn Good Face Mist // Rest
is a hydrating, refreshing, magical elixir. This facial mist replenishes your skin and leaves you relaxed and soothed. Spray onto your hair as well for added hydration. Especially helpful for winding down before bed.
All Natural.
All of our products contain all-natural, plant-based, or organic ingredients. Each ingredient is specifically chosen for it's therapeutic reason. Our products are only tested on willing family and friends, never on animals. All products are handmade in small batches in the USA.
Skin Type:
normal
oily
dry
combination
sensitive
aging
Ingredients:
Distilled Water // reverse osmosis water, pH around 5 to balance skin's pH, improves penetration of products.
Colloidal Silver // anti-oxidant, anti-fungal, antibacterial and anti-inflammatory properties, ideal for soothing dry, sensitive, or acne-prone skin, fosters a healthy facial microbiome, helps repair damaged skin.
Copaiba Essential Oil // anti-inflammatory, antiseptic, healing and soothing, calming, sweet and woody scent.
Roman Chamomile Essential Oil //soothes skin, provides anti-redness and anti-inflammatory benefits
Lavender Essential Oil // soothes and calms the skin and relaxes the mind, helps to prevent tissue degeneration to keep skin firm and prevent wrinkles, encourages the growth of new skin cells, and is pretty much anti-everything-bad
2 oz // 60 mL
Directions:
Shake bottle before use. Spray on face, neck and even hair anytime throughout the day.
Of Note:
1. All of the products are intended for external use only. The essential oils used are for external use only. Always consult your health care professional if pregnant, breastfeeding, on medications or homeopathic remedies before using any essential oil products. Keep out of reach of children and pets.
2. Due to the nature of the raw ingredients, contents may be subject to seasonal changes in color and consistency.
3. All of the products are made in small batches using natural ingredients or organic materials whenever possible.
4. Because no preservatives are used, the products should be used in a timely manner. The face washes, toners and scrubs should be used within three months for freshness. The face oils and body oils should be used within six months for freshness. Seasonal temperatures, temperatures within your home, and how you maintain your product (introducing water, bacteria, etc) can influence product freshness as well. To maintain freshness please store products in a cool, dark place away from direct sunlight.
5. Products are packaged in glass because --duh, it's better than plastic-- and I prefer the dark bottles whenever possible because they help protect the essential oils and other natural ingredients.
6. Most of the raw materials, bottles and packaging are sourced from a member-owned co-op that prides itself on doing business in a sustainable and ethical way. A small percentage of the profit from that co-op goes to organizations, causes, and activities that really make the world a better place. So you can feel DAMN GOOD about that too.
7. These statements have not been evaluated by the Food and Drug Administration. The information provided is intended for educational purposes only and is not intended to diagnose, treat, cure, or prevent any disease.